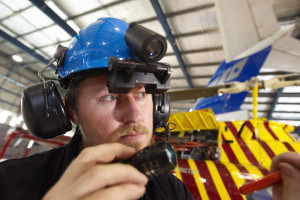 The Australian aerospace company TAE will soon begin commercializing wearable gear that will help aircraft technicians keep airplanes flying.
A story in the Australian Financial Review says Guardian Mentor Remote, developed by the Australian national science agency CSIRO, comprises a headset and visor that can let technicians bring in experts to help wherever they are in the world. It would no longer be as necessary to fly technicians to remote locations to diagnose problems or perform repairs.
The gear has been tried by Boeing and Aviation Australia, and is expected to go on sale in October.